| | | | | | |
| --- | --- | --- | --- | --- | --- |
| Score by Quarters | 1 | 2 | 3 | 4 | Score |
| Youngstown State | 0 | 0 | 3 | 0 | 3 |
| Penn State | 0 | 20 | 10 | 7 | 37 |
Scoring Summary
2nd
09:51
PSU - Kevin Kelly 49-yard field goal
06:33
PSU - A.J. Wallace 76-yard run (Kelly kick)
01:56
PSU - Tony Hunt 11-yard run (Kelly kick)
00:00
PSU - Kevin Kelly 28-yard field goal
3rd
09:15
YSU - Brian Palmer 33-yard field goal
06:07
PSU - Derrick Williams 4-yard run (Kelly kick)
01:33
PSU - Kevin Kelly 36-yard field goal
4th
01:37
PSU - Darryl Clark 18-yard run (Kelly kick)
UNIVERSITY PARK -- The brake lights blinked sporadically in the darkness Saturday as 104,954 fans slowly made their way out of the parking lots and down Park Avenue. Many had expected to be halfway home by that time.
Penn State's 37-3 win over Youngstown State was, in the end, what the No. 25 Nittany Lions wanted -- a win, a chance for younger players to see the field and, with one exception, an empty trainer's table.
In the beginning, it was a display of sloppy sleepwalking the Nittany Lions hope isn't becoming a trend.
"We can't afford to go into the middle of the second quarter before we decide to put some points up," said left tackle Levi Brown, "against a team like Ohio State."
That's precisely what the Lions did against the Penguins, a well-coached and determined Division I-AA team but a Division I-AA team nonetheless. Penn State was scoreless for the first 20 minutes and nine seconds of play -- a week after going scoreless for the first 33:31 in a 41-17 loss at Notre Dame -- and know that a similar start Saturday at No. 1 Ohio State could prove fatal.
There were positives, to be sure. The Nittany Lions (2-1) did rip off 20 points in the rest of the second quarter and tripled the Penguins (2-1) in total yardage, 568 to 184. A defense picked apart by the Fighting Irish the week before forced three turnovers and didn't let the Penguins into Penn State territory until the second half.
But, for the third straight game, the young Lions were erratic more often than they were efficient.
"I think we were sloppy. I think we made some progress in some areas," said Penn State coach Joe Paterno. "We're certainly not good enough yet."
Penn State went to the run early and stayed there, finishing with 389 yards -- only a yard shy of its total against Michigan State during Larry Johnson's record-breaking 2002 season -- on 39 carries. Senior tailback Tony Hunt gobbled up most of them, churning out 143 yards and a touchdown on 18 carries.
Early on, those yards didn't come when it mattered. Penn State had three third-and-short situations in Youngstown State territory in the first quarter and failed to convert all three thanks to two failed runs and an illegal procedure penalty. The Lions were forced to punt on the first two drives and Kevin Kelly shanked a 30-yard field goal on the third.
Linebacker Paul Posluszny, who led the Lions with eight tackles, and the defense were in shut-down mode against the overmatched Penguins, but the seconds continued to tick off the clock with zeroes on the scoreboard.
"We've got to come out and jump on them from the first play," said Penn State quarterback Anthony Morelli. "We can't sit back."
Kelly broke the queasy deadlock with a 49-yard field goal early in the second quarter. After a Youngstown three-and-out, Derrick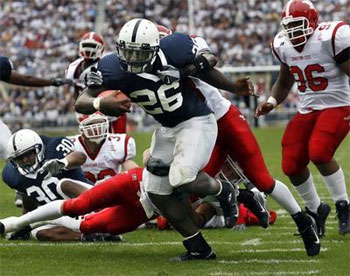 Williams ran back a Joe Bishop punt 65 yards to the Youngstown State 8-yard line, only to walk back across midfield because of a block-in-the-back penalty.
A.J. Wallace, the true freshman who has had a Williams-like impact on the offense, made up for it the next play, sprinting past the entire Penguin defense on a reverse for a 76-yard touchdown the finally kick-started Penn State's scoring. By halftime, the Lions led 20-0, and by the start of the fourth quarter, the lead was 30-3.
"I think we got off to a slow start, but after we got it going I think we did pretty well," said wide receiver Deon Butler. "We've just got to work on capitalizing once we get down into the red zone."
Most of Penn State's starters on both sides of the ball played well into the fourth quarter. The Lions emerged from Saturday injury-free with the exception of senior defensive end Jim Shaw, who re-aggravated the right ankle sprain he had suffered two weeks earlier and missed the second half.
The backups, who fans had thought they would see more of, were impressive. Tailback Rodney Kinlaw juked and darted for 86 yards on six fourth-quarter carries, and quarterback Daryll Clark ran for a touchdown for the second straight week, though he did lose a fumble. Freshman defensive ends Maurice Evans and Jared Odrick saw extended action.
At every position, the Lions were too big, too strong and too athletic for the Penguins, who have 19 all-time wins against I-A schools but didn't take advantage of Penn State's slow start.
"We didn't come here to lose. Our players didn't come here to lose. I certainly didn't coach to lose," said Youngstown State coach Jon Heacock. "That feeling doesn't feel very good. At the same time, I think they know they hung in there and fought until the very end."
Paterno was asked if meeting the Penguins a week before going into the house of the nation's top-ranked team, which cruised to a 37-7 win over Cincinnati on Saturday, was a case of bad timing.
"I don't think it hurts us, to be frank with you," Paterno said. "I don't think it hurts us at all."
A start like Saturday's, as the Nittany Lions are well aware, could lead to a world of hurt in Columbus.