| | | | | | |
| --- | --- | --- | --- | --- | --- |
| Score by Quarters | 1 | 2 | 3 | 4 | Score |
| Michigan State | 3 | 3 | 0 | 7 | 13 |
| Penn State | 0 | 3 | 28 | 6 | 37 |
Scoring Summary
1st
10:33
MSU - Dave Rayner 19-yard field goal
2nd
1:43
PSU - Robbie Gould 47-yard field goal
0:00
MSU - Dave Rayner 52-yard field goal
3rd
8:58
PSU - Tony Hunt 1-yard run (Gould kick)
8:07
PSU - Zack Mills 8-yard run (Gould kick)
3:18
PSU - Zack Mills 10-yard run (Gould kick)
0:21
PSU - Michael Robinson 6-yard pass from Mills (Gould kick)
4th
12:23
PSU - Robbie Gould 27-yard field goal
8:57
MSU - Jerramy Scott 12-yard pass from Reaves (Rayner kick)
6:32
PSU - Robbie Gould 43-yard field goal
STATE COLLEGE, Pa. - It was a brief but emotional moment between the coach who refuses to be pushed through the exit door by blitzing detractors, and the quarterback who refused to be beaten into submission by blitzing linebackers during an up-and-down career.
When senior Zack Mills jogged to the Beaver Stadium sideline for the final time near the end of Penn State's 37-13 rout of Michigan State yesterday in the final game of the season for the Nittany Lions, he and Joe Paterno embraced.
"We kind of drew closer the last couple years," Mills said after Penn State closed out a frustrating season with back-to-back wins in the Big Ten Conference. "He's taken a lot of heat and I've taken a lot of heat, and I think the respect between us became very, very strong."
Mills was having such a good time, he didn't want to leave the game, but Paterno arranged a curtain call for him, and the crowd that had booed him so frequently gave him a standing ovation.
"I didn't think he did that for guys, but he did and I got a nice ovation," said Mills, who had touchdown runs of 8 and 10 yards and tossed a 6-yard scoring pass to Michael Robinson to equal the school career record of 41 held by Todd Blackledge and Tony Sacca.
And afterward, Paterno made it clear he won't leave the game - at least not before next season. Asked if he plans to return for his 40th year, Paterno, who will turn 78 next month, said, "Have I ever said I wasn't?
"Is that wishful thinking? I'm planning to be back next year. As I've said, I'd like to be able to put together a scenario where I can pick the time I want to leave and have somebody in-house ready to take over."
For one of the few times this season, Paterno, whose teams have had four losing seasons in the last five, was in a cheery mood, seemingly oblivious to the notion held even by so many of his loyalists that his time is past.
Certainly, he had reason to be pleased. The Nittany Lions (4-7, 2-6), whose only two conference victories the last two seasons had come against sad-sack Indiana, had finally beaten a decent team and had at last found the end zone with some regularity.
Michigan State (5-6, 4-4) was coming off a stunning 49-14 rout of previously unbeaten Wisconsin, and needed the win to stay in contention for a bowl game. Though they had been schizophrenic as always, the Spartans were averaging 30.2 points and a conference-best 458.4 yards a game in total offense.
But Penn State's defense, one of only two in the nation that never allowed more than 21 points in a game, once again had the answers. And the offense, which had scored a total of seven TDs in the seven previous conference games, scored four TDs within 8 1/2 minutes of the third quarter, turning a 6-3 halftime deficit into a 31-6 lead.
"That third quarter was the most fun I've ever had playing football," said defensive tackle Scott Paxson, a junior from Roman Catholic High.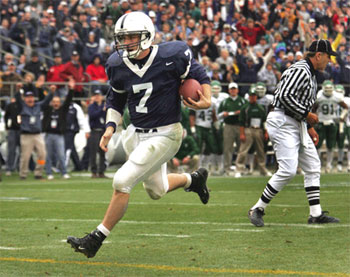 Penn State opened the second half with a 75-yard scoring drive, which finished with Tony Hunt's 1-yard dive for a 10-6 lead. Mills said the drive was critical after a first half in which the Nittany Lions had nothing but a 47-yard field goal by Robbie Gould.
"I think that first drive was so important," Mills said. "If we had gone three and out or if they had stopped us, it could have been a different ball game. But I think when we got that touchdown, it got the defense fired up and they did a great job."
Defensive end Tamba Hali made a leaping interception of a screen pass by Drew Stanton at the Michigan State 8-yard line. On the next play, Mills, who ran for 74 yards, raced around the right side for a TD. A shifty runner, Mills had not been carrying the ball much in recent games because he hadn't been completely healthy.
"They were joking and saying we were going with the QB run more this game because I didn't have to be healthy for the next game," Mills said, smiling. With a 17-6 lead, Penn State went on a rare scoring tear.
Linebacker Paul Posluszny intercepted a pass by Damon Dowdell and ran it 18 yards to the Spartans' 10-yard line. On the next play, Mills went 10 yards untouched up the middle on a draw. A blocked punt by Donnie Johnson set up Penn State at the Michigan State 22-yard line, setting up Mills' TD throw to Robinson and fattening the lead to 31-6.
"Now that was our team out there today," senior strong safety Andrew Guman said. "I hope we helped establish something for the future."
Guman is one of only two starters who won't return for a defense that held Michigan State 120 yards below its average. "We can build on what we have," Paterno said.
Notes: Adam Taliaferro, who suffered a career-ending spinal injury in 2000 but made a miraculous recovery from temporary paralysis, was among 13 seniors introduced before the game. He received a rousing ovation before he was hoisted in the air by lineman Scott Davis. "When Adam ran out of the tunnel, it really set the tone for us," junior center E.Z. Smith said. Taliaferro, from Voorhees, Camden County, is scheduled to graduate in May. He plans to attend law school......Dan Connor, the freshman linebacker from Strath Haven High, left the game late in the fourth quarter after suffering a stinger......Penn State intercepted five passes by three Michigan State quarterbacks......The Nittany Lions had scored 66 points combined in their previous seven conference games.