| | | | | | |
| --- | --- | --- | --- | --- | --- |
| Score by Quarters | 1 | 2 | 3 | 4 | Score |
| Penn State | 7 | 0 | 7 | 8 | 22 |
| Indiana | 7 | 6 | 0 | 5 | 18 |
Scoring Summary
1st
8:41
IU - Courtney Roby 26-yard run (Robertson kick)
3:32
PSU - Michael Robinson 33-yard pass from Mills (Gould kick)
2nd
12:54
IU - Kyle Killion 46-yard interception return (Robertson kick)
3rd
1:49
PSU - Zack Mills 2-yard run (Gould kick)
4th
8:47
IU - Bryan Robertson 23-yard field goal
4:51
PSU - Tony Hunt 2-yard run (Zack Mills rush)
0:00
IU - TEAM Safety
BLOOMINGTON, Indiana - Scott Paxson rose from the twisted pile of players near the Penn State goal line and, with a vertical leap he estimated to be about three inches, the Nittany Lions defensive tackle did a celebratory chest bump with defensive end Matthew Rice.
Nearby, linebacker Dan Connor did his best imitation of a pogo stick, jumping up and down with joy.
The last time Penn State had won a football game, on Sept. 18, the leaves had yet to turn and the fans at Beaver Stadium had needed sunscreen.
"I can just about remember," Paxson said. "I haven't felt like this in a while."
On a crisp, clear, chilly afternoon yesterday at Memorial Stadium before 24,092, the smallest crowd to see them play this season, the Lions broke a six-game losing streak with a 22-18 road victory over Indiana in a Big Ten Conference game.
The Lions (3-7, 1-6 conference) did it with a sturdy goal-line stand in the closing moments by a defense that all season long has refused to allow an inept offense to drag it down.
As several Penn State players conceded afterward, beating the Hoosiers (3-7, 1-6), perennial Big Ten doormats, didn't mean that all was well in Happy Valley. Far from it. But it certainly was better than the alternative.
"It feels good to win, but at the same time, if you play for Penn State, you expect to beat teams such as Indiana - not to take anything away from them," said Michael Robinson, who initially was ruled out of bounds on a 33-yard touchdown catch late in the first quarter before being awarded the TD after a video review.
"So it was more of a sense of relief. It's like, 'All right, we can take a deep breath now. We know we can do some things. We know our offense works on occasion,' " Robinson said with a laugh. "But it was mostly a sigh of relief."
The Penn State defenders were joyful not only because of the win, but also because they had just been to grunt heaven and loved every minute of it.
After Penn State took a 22-16 lead on Tony Hunt's 2-yard run with 4 minutes, 51 seconds remaining, Indiana moved to the Lions' 1-yard line on the strength of a pair of 29-yard passes from Matt LoVecchio to Travis Haney.
The Hoosiers had four chances to get across the goal line and hand Penn State its most humiliating loss of a grim season.
After defensive tackle Ed Johnson and linebackers Paul Posluszny and Derek Wake made the tackles that kept Indiana out of the end zone on the first three downs, the Hoosiers advertised their intention by lining up in a stacked I-formation - three running backs behind the quarterback. Translation: We're coming up the middle. Try to stop us.
"At that point, it's kind of like a fight," said Connor, the talented freshman from Strath Haven High who made 11 tackles, giving him 27 over the last two games. "It's like two rams smashing into each other, and that's what you live for if you're a football player. You live for goal-line stands like that."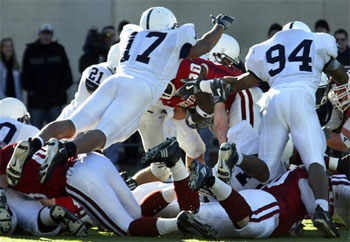 When running back Chris Taylor went up the middle for Indiana, he was met by a pack of Nittany Lions. Paxson, a 275-pound junior from Philadelphia's Roman Catholic High, hit him low. Posluszny, Lavon Chisley, Paul Cronin and Alan Zemaitis were also involved in stopping Taylor cold with 55 seconds remaining.
"I think just about everyone was part of it," Paxson said. "Hey, we live for this. It was awesome. All 11 of us knew we could do it."
On Penn State's ensuing possession, punter Jeremy Kapinos intentionally gave Indiana a safety by stepping out of the end zone as he ran out the clock.
It seemed only fitting that the defense, which went into the game ranked 10th nationally in points allowed (15.2 per game), saved the win. But the offense, which had scored four TDs in the last six games, was actually functional, providing the Lions with the highest point total of the season in a conference game.
Zack Mills had a strong second half and finished 11 for 19 for 169 yards. He also ran for a 2-yard TD. That was after he got off to a bad start, throwing an ill-advised pass that was intercepted by Paul Szczesny at the Penn State 28. Indiana then grabbed a 7-0 lead on a 26-yard run by Courtney Roby.
Anthony Morelli, the freshman Penn State fans had been pressing coach Joe Paterno to play, came in late in the first quarter for Mills and played, well, like a freshman who'd gotten little playing time. He tossed an interception that was returned 46 yards for a TD by linebacker Kyle Killion, giving the Hoosiers a 13-7 lead.
"I asked E.Z. [center E.Z. Smith] how Anthony was in the huddle, and he said he was a little slow getting things out and getting things processed," Mills said. "But that's to be expected with him. That is the first time he's been in there in a tight situation in the middle of the game."
Morelli left the game with a gimpy ankle after Killion sacked him for a 12-yard loss on a blitz.
Penn State regained the lead at 14-13 in the third quarter on Mills' 2-yard dive, but Indiana forced the Nittany Lions to play catch-up again when Bryan Robertson kicked a 23-yard field goal midway through the fourth.
On its game-winning drive, Penn State was helped by a personal foul on the Hoosiers' Chris Voltattorni, who gave Robinson a forearm shiver after Robinson had run out of bounds on a 12-yard catch. Voltattorni wasn't even in the game.
"He was just on the sideline, chillin'," said Robinson, who exchanged words with the 295-pound offensive lineman. "Can't tell you what I said to him. It'll get me in trouble."