| | | | | | |
| --- | --- | --- | --- | --- | --- |
| Score by Quarters | 1 | 2 | 3 | 4 | Score |
| Northwestern | 7 | 0 | 0 | 7 | 14 |
| Penn State | 0 | 7 | 0 | 0 | 7 |
Scoring Summary
1st
12:13
NW - Terrell Jordan 1-yard run (Huffman kick)
2nd
0:37
PSU - Isaac Smolko 2-yard pass from Mills (Gould kick)
4th
14:33
NW - Noah Herron 1-yard run (Huffman kick)
STATE COLLEGE, Pa. - The pass was there and so was Michael Robinson, the Penn State receiver with the surest hands and the burning desire to make up for a mistake that had put the Nittany Lions into an early hole.
If that scenario sounds hopeful for the angry, frustrated folks who trek to the middle of nowhere and file into Beaver Stadium believing things just can't get any worse for coach Joe Paterno and his team, well, you haven't been following Penn State football these days. What came next - now that's Penn State football.
In full stride and with a step on his defender at the Northwestern 2-yard line, Robinson dropped the perfectly thrown pass from Zack Mills with less than four minutes remaining in the fourth quarter yesterday, and Paterno and the Nittany Lions were once again left to grope for explanations for yet another loss.
This time, Penn State went down, 14-7, in a Big Ten Conference game as Northwestern took advantage of a poorly thrown pass by Robinson to get an early touchdown, then used its massive offensive line and the tough running of Noah Herron to protect its first-ever win at Beaver Stadium.
"Oh, man, I've got to make that catch," Robinson said after Penn State (2-7, 0-6 Big Ten) lost a conference game for the 13th time in the last 14 tries and sank below Illinois into last place. "As soon as I came off my break, the ball was right there and it kind of shocked me. I got my hands up a little late. But at this level I've got to make that play, and I didn't. It was a great pass."
Although the attendance was announced as 100,353 in the 108,000-seat stadium, there appeared to be at least 15,000 empty seats. There's no logical reason to expect to fill a stadium for a team that has so many problems on offense.
When Mills tossed a 2-yard pass to tight end Isaac Smolko to tie the game, 7-7, just before the halftime break, it was Penn State's fourth TD in the last six games. Mills, who once again was serenaded with boos, pointed to the sky and briefly pumped his fist.
"It was about time, you know," said a dejected Mills, who completed 21 of 34 passes for 183 yards, but will likely step aside next week against Indiana so that freshman Anthony Morelli can get some work.
"Everybody's always wanting something new," added Mills, a fifth-year senior who returned after sitting out last week's game against Iowa with a concussion. "They'll get it in two more games."
Afterward, Paterno said he put aside his plan to give Morelli some playing time because he thought the team had a better chance of winning with Mills.
"I told him [Morelli] a couple of times to get ready," Paterno said. "I was very close. If we had gotten behind by more than a touchdown, I probably would have stuck him in, but I didn't want to sit Zack on the bench when I thought we still had a shot at it."
On its first play from scrimmage, Penn State tried some razzle-dazzle. Good idea. Bad execution. Mills handed the ball to running back Tony Hunt, who then gave it to Robinson. Mark Rubin was open deep, but Robinson, pressured from behind, threw a pass to Hunt that was intercepted by strong safety Dominique Price at the Northwestern 33-yard line.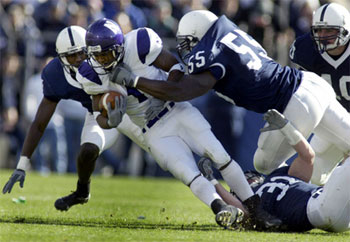 "The primary receiver [Rubin] was way downfield and he was open, but I didn't think I could get it to him," Robinson said. "And then I saw Tony wide open and tried to get it to him, but the safety came over and made a great play. He read my eyes."
The Wildcats (5-4, 4-2) cashed in. On third and 10, Jonathan Fields made a nice cutback and broke free for 51 yards after taking a screen pass. A facemask penalty against Penn State's Alan Zemaitis was tacked on to the play, giving Northwestern a first down at the 8-yard line.
Herron ran to the 1 but left the game in a daze after taking a big hit from cornerback Anwar Phillips. Terrell Jordan plowed into the end zone for a 7-0 Northwestern lead.
Herron made a remarkable comeback, running for 175 yards on 30 carries. He scored the eventual game-winner with a 1-yard TD early in the fourth quarter, finishing off an impressive 83-yard drive.
"He was out of it for a while, not knowing what was going on," Northwestern coach Randy Walker said.
Penn State's offense knows the feeling. Anyone wondering why the Nittany Lions have scored 47 points in their seven losses can reference an ugly sequence in the third quarter, when the score was tied, 7-7, and Penn State had first down at the Northwestern 12-yard line.
First down: a 10-yard penalty on tight end John Bronson for an illegal block. That was followed by a 2-yard completion, an incompletion, a draw play for 6 yards and, finally, a missed 31-yard field goal by Robbie Gould.
In a reference to Penn State's unhappy followers, Paterno said: "Nobody likes to lose. I appreciate any of the sentiments of the people who are upset with our losing. They have every right to be upset. That isn't what concerns me because I can't do anything about them being upset. I've got to do something about trying to make our team better."
Notes: Linebacker Dan Connor, a freshman from Strath Haven High, had 16 tackles in his second start of the season, the most by a Penn State player in two years......Defensive tackle Scott Paxson, a junior from Roman Catholic High, had his fifth blocked field goal this season, and the seventh of his career.