| | | | | | |
| --- | --- | --- | --- | --- | --- |
| Score by Quarters | 1 | 2 | 3 | 4 | Score |
| Penn State | 0 | 7 | 0 | 3 | 10 |
| Ohio State | 14 | 7 | 0 | 0 | 21 |
Scoring Summary
1st
5:18
OSU - Ted Ginn Jr. 67-yard punt return (Nugent kick)
3:41
OSU - Tyler Everett 24-yard interception return (Nugent kick)
2nd
5:55
PSU - Tony Hunt 3-yard run (Gould kick)
1:57
OSU - Brandon Joe 4-yard run (Nugent kick)
4th
9:31
PSU - Robbie Gould 21-yard field goal
COLUMBUS, Ohio - In the closing moments of yesterday's Big Ten Conference matchup between Penn State and Ohio State at windswept Ohio Stadium, ABC-TV estimated that coach Joe Paterno had covered 5.5 miles pacing up and down the sideline.
By the time the game ended, Paterno must have felt like his team's punchless offense: He had expended a lot of energy going nowhere.
What once was unthinkable is now official: After a 21-10 loss, the Nittany Lions (2-6, 0-5 Big Ten) are guaranteed their fourth losing season in five years. It may be hard to remember through all the grim times in recent years, but Penn State had only one sub-.500 season during Paterno's first 34 years as head coach.
"Home for Christmas," disappointed junior defensive tackle Scott Paxson said after Ohio State (5-3, 2-3) handed Penn State its 12th conference loss in 13 games in a dreary game that tested the attention span of even the most ardent college football fan. The Buckeyes have defeated the Nittany Lions six straight times at home.
Although the result was familiar for Penn State, there was a slightly different twist to this loss. Only against the Nittany Lions, it seems, can an opponent grab a 14-0 lead with 5 measly yards in total offense.
Indeed, that's exactly what happened as Penn State's special teams self-destructed. In the first quarter, Ted Ginn Jr., a lightning-quick freshman, raced 67 yards on a punt return to give Ohio State a 7-0 lead with 5 minutes, 18 seconds remaining. In the second quarter, a 62-yard kickoff return by Ohio State's Maurice Hall drained the life out of what appeared to be a Nittany Lions comeback.
"We work like dogs on the kicking game all week because we're scared to death of it," Paterno said. "We make it a priority, and then we got beaten badly in the kicking game."
Less than two minutes after Ginn's punt return, Tyler Everett picked off a pass by quarterback Michael Robinson and went 24 yards for a TD that made it 14-0.
"We knew they were going to run something to our side," Buckeyes cornerback Dustin Fox said. "Ty was anticipating, and he made a great play."
So Penn State was down, 14-0, and its defense, which again played superbly, had done nothing wrong.
"You just have to fight through that during a game," said Penn State linebacker Paul Posluszny after the defense held the Buckeyes to 202 yards.
Earlier, the Nittany Lions had a decent drive end at the Buckeyes' 31-yard line when Ohio State cornerback Ashton Youboty stepped in front of receiver Terrell Golden on a short slant pattern and picked off a Robinson pass.
"On the first one, I was thinking our receiver [Golden] was going to get inside of [the defender]," said Robinson, who started in place of injured Zack Mills. (Mills suffered a concussion last week.) "I don't know if he slipped or whatever, but we weren't on the same page. The second one was a screen and the guy made a great play. He broke on the ball, and he made a great play."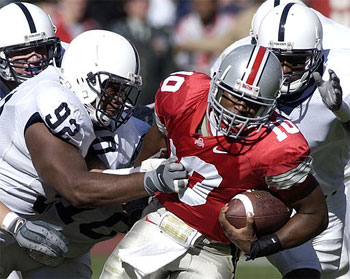 Robinson had a rough day, nothing new for a Penn State quarterback. He completed only 7 of 21 passes for 69 yards and was sacked three times. He also ran the ball 20 times for 58 yards.
"I did feel a little rusty," Robinson said. "The wind was kind of tough out there in the direction we were going in the first quarter, but that's no excuse. Those are throws I've got to make."
Anyone who had seen Penn State's 6-4 loss to Iowa last week or any of the other anemic performances by the offense could be reasonably assured the 14-0 deficit was too much for the Nittany Lions to overcome.
In their six losses, they have scored a total of 40 points. In their five conference games, they have crossed the goal line a mere three times. One of those rare TDs came yesterday when Tony Hunt, who ran for 85 yards and caught two passes for 17 yards, followed his own 26-yard gain with a 3-yard TD run to bring Penn State within 14-7 with 5:55 to go in the half.
For a moment, it looked as if the Nittany Lions were twitching back to life. Only for a moment, though. Hall ran back the ensuing kickoff 62 yards to the Penn State 35, setting up Branden Joe's 4-yard scoring burst that made it 21-7.
During the second half, Ohio State went into low-risk mode, content to sit on the 14-point lead. And why not? Penn State made one more thrust, getting first and goal at the Buckeyes' 6 after a 12-yard completion from Robinson to Hunt. But on fourth down from the 3-yard line with 9:31 remaining, Paterno opted for a field goal.
"I'd probably second-guess myself on that," Paterno said. "I thought we were playing really good defense. There was 91/2 minutes to go. It's one of those things that you're never sure if you're right, but I'd probably do it over again."
Penn State's offense had been going so poorly that Paterno and his first-year offensive coordinator, Galen Hall, decided things might improve if Hall went up to the booth rather than stand on the sideline. "A change of pace," Paterno explained.
All Hall got out of it was an aerial view of the same ineptness that continues to drag this team down.
Notes: Sophomore running back Austin Scott sat out the last three quarters after a hard hit left him woozy......Strong safety Andrew Guman missed most of the fourth quarter with a bruised sternum......Penn State's Jeremy Kapinos had a 78-yard punt in the third quarter, the second longest in Penn State history.