Flax flower

Seed boll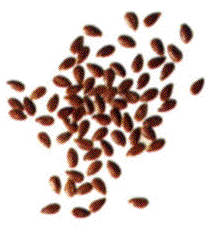 Linseed (flaxseed)
QLIFE® HEALTH & BEAUTY PRODUCTS
Beauty Products Division
Proprietary* (US and international patents pending),
Upscale Connoisseur, 20-Product Line of
Linseed Double Biocomplex-Based
QLIFE® Skin and Hair Care Cosmetics
We have reached to the riches of Nature to help you to maintain (or regain) youthful healthy skin and hair. Our revolutionary, expertly formulated QLIFE® line of skin and hair products brings to you Nature's treasure in the form of a unique, proprietary* double biocomplex of linseed oil and linseed aqueous extracts. The 20-product line, is a result of many years of scientific cosmetological research and meticulous formulation work . It has been thoroughly market tested since 1997, on a 40 million population, European, cosmetically astute audience where it has become a smashing success. The line is manufactured in an ISO 9001 (a prestigious international quality certificate) certified cosmetic establishment.
The benefits of linseed were known to ancient Egyptians who used it for cooking, medicinal, and cosmetic purposes. Egyptian women mixed linseed oil, sesame oil, and olive oil to obtain a soothing and rejuvenating balm for skin and hair care. Folk medicine has been using linseed oil to heal skin burns and frostbite; and to repair damaged, dry, and flaky epidermis.
Linseed is a rich source of extremely valuable natural bioactive substances, such as: vitamins A, E, F (vitamin F = essential fatty acids; linseed abounds in Omega 3, the most desirable and healthy fatty acid, normally found in cold water fish) B-1, B-2, B-3, B-6, and B-12; eighteen amino acids; three anticancerogens, and microelements. Our formulae skillfully combine the proprietary linseed double biocomplex with other carefully selected and balanced plant derived ingredients to provide your skin and hair with the right micronutrients, maintain them at an appropriate moisture level, and protect them against elements.
The QLIFE® line of exquisite skin care products is designed for delicate and sensitive skin of the contemporary woman and the look conscious man. This line encompasses a complete set of unparalleled quality products whose regular application smoothens the skin, improves its firmness, restores youthful elasticity, and eliminates flaking.
The QLIFE® line of hair care products includes connoisseur quality cosmetic preparations for hair care that, in addition to the proprietary linseed double biocomplex, contain provitamin B5, natural silk proteins, and jojoba extract. These delicate bioformulas leave your hair elegantly silky, soft, and full-bodied.
____________________
* US and intn'l patents pending
QLIFE® is a registered trademark of:
BATORY A.M., Inc.
QLIFE® Health & Beauty Products
P.O. Box 396
Fairport, NY 14450, USA