WISCONSIN FISHING REGULATIONS

Fishing licenses/Stamp information
Resident Fishing License - $14.00 Residents who are 16 years old or older need a fishing license to fish in any waters of the state.
Resident (husband and wife) license--Fee $24.00
Nonresident individual (annual) fishing license--Fee $34.00
Nonresident 4-day individual license--Fee $15.00
Nonresident 15-day individual license--Fee $30.00
Nonresident 15-day family license--Fee $30.00. Includes children 16 & 17.
Nonresident 2-day Fee $10.00

Limits
LARGEMOUTH BASS AND SMALLMOUTH BASS 5 IN TOTAL 14 INCHES.
MUSKELLUNGE (INCLUDES HYBRIDS) 1 34 INCHES.
NORTHERN PIKE 5 (MINIMUM LENGTH) NONE.
WALLEYE AND SAUGER 5 IN TOTAL 15 INCHES (BAG LIMIT MAY VERY FROM LAKE TO LAKE).
BLUEGILL, PUMPKINSEED (SUNFISH), CRAPPIE AND YELLOW PERCH 25 IN TOTAL (MINIMUM LENGTH NONE.
(Note Limits and sizes may very from lake to lake so make sure you check your regulations for2004 2005.)

For more information
All this information can be found in greater detail in the 2004 2005 Wisconsin Fishing Regulations Handbook or at: http://www.dnr.state.wi.us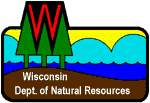 HOME

HISTORY

KIDS STUFF

HOT STUFF

PRO & CLUB TOURNAMENTS
MORE STUFF

CONTACT & GUEST BOOK

LINKS & FRIENDS

RECIPES

ZONE 1 INFORMATION