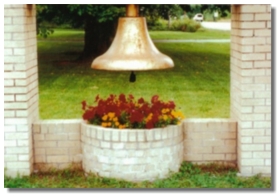 It was on May 30, 1886 that thirty-five men gathered with Pastor C.N. Conrad to establish the ďFirst German Evangelical Lutheran Concordia CongregationĒ in Brockport, New York. This new congregation became affiliated with the New York Ministerium, became incorporated and called their first pastor, Rev. Graepp.

Services, in German until 1915, were held in the Opera House on Main Street. A building site on Spring Street was purchased in 1887 and a new frame church was constructed.

A new constitution and by-laws were adopted May 7, 1951, and the congregation became a member of the Lutheran Church Missouri Synod, Eastern District.

Six acres of land fronting Fourth Section Road was purchased in September 1960 for the purpose of building a new church and parsonage.

New momentum and courage was gathered during 1968-69 with the erection of a parsonage. Mr. Jae Ko was commissioned to design the new church and on July 8, 1973 ground breaking ceremonies were held. The Spring Street church was sold and final services there were January 27, 1974. The following Sunday services were held in the education wing of the new church while construction continued on the nave.

With all the dedication and labor of the congregation members, it is estimated more than $100,000 was saved.

Dedication of this beautiful new church was held on June 15, 1975.

On August 1, 1977, after 40 years in the ministry, Pastor Paul Voight preached his final sermon and retired. April 30, 1978 marked the installation of Pastor Carl Klug as Concordia's new minister.

A mortgage burning ceremony was held on June 3, 1979, making the church, parsonage and the land completely paid for.

May 30, 1986 marked the 100th anniversary of the Church. The membership of one hundred thirty-five families gathered to celebrate a century of Godís Blessing.

Vicar Roger Kimmel came to Concordia in 2000 to fill the vacancy after Pastor Klug's departure. He was still completing classes through the DELTO program (Distance Education Leading to Ordination) at Fort Wayne Seminary. On March 3, 2003, Concordia was privileged to celebrate Rev. Kimmelís ordination into the ministry and to install him as our Pastor.

After Pastor Kimmel's retirement, we welcomed Pastor David Triplett's arrival as Intentional Interim Pastor, December 2011. Please join us as Pastor Triplett guides on our new journey. The changes we've encountered allowed us to see new and different ways to carry out Godís plan for our congregation. God bless us as we continue His work.